Press Kit
Sixthman festivals tear down walls between artists and fans by creating community-inspired vacation experiences at resorts and at sea.
Since 2001, Sixthman has set the stage for moments that make life rock, serving over 300,000 guests on over 150 unforgettable vacations on sand and at sea with their favorite artists, athletes, actors, comedians and brands. These carefully curated, intimate events bring non-stop performances, artist collaborations, in depth panels and Q&As, fan-artist activities, museums and overall truly immersive experiences that celebrate community and change expectations of what a vacation can be. Sixthman's domestic home port of Miami brings escapes for guests to dream destinations in the Virgin Islands, Belize, Honduras, Mexico, and The Bahamas. In 2019, Sixthman expanded their festivals at sea to Europe, sailing from Barcelona, Spain to exotic Mediterranean ports. 2022 will bring sailings through the Greek Isles. In addition to festivals at sea, in 2019 Sixthman brought their innovative vacation concept to world class, all-inclusive resorts in the Dominican Republic and will do the same in Mexico in 2022. In 2020, Sixthman Services was launched to support other event holders with a suite of on-site and virtual event management services and enhanced experiences. 2022 has brought the organization's first foray into immersive Music Camp experiences in partnership with Rock-n-Roll Fantasy Camp.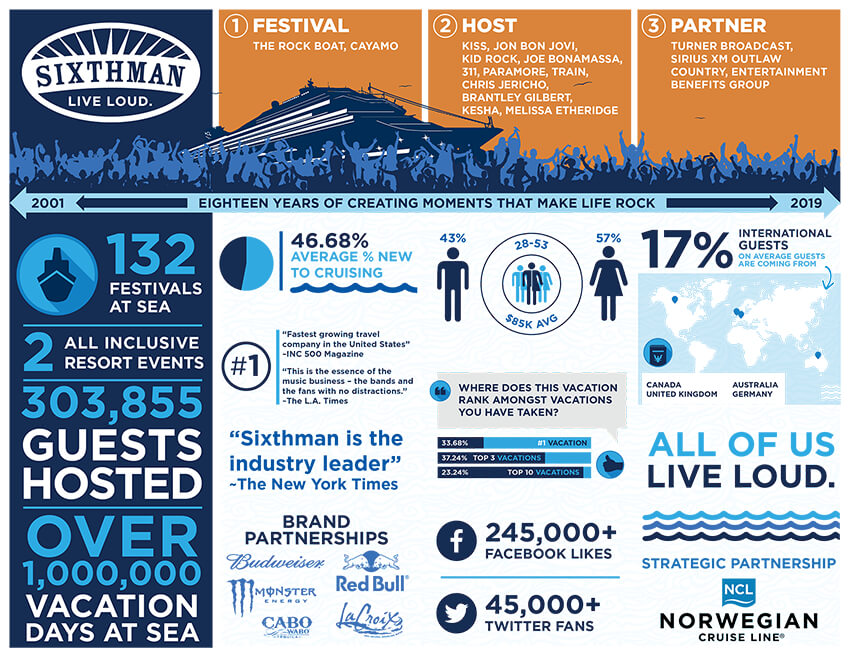 A Sixthman experience is truly unique and can't be replicated anywhere!
Each year it gets better. It's a great experience and will be part of KISStory!
The whole trip was awesome from the boarding high-five 'til the end!
Amanda I.
Kid Rock Cruiser
Awesome event. Too bad the real world can't be more like TRB!
Amazing camaraderie amongst the guests and musicians!
Stephen A.
Sandy Beaches Cruiser
This was the highlight of our year, of our life! Amazing!
Tina B.
Florida Georgia Line Cruiser
This is the highlight of my year. I can't imagine life without it!
It's like being at Woodstock, but on the water.
Chris D.
Sail Across The Sun Cruiser
It was a life changing experience and I will never miss one as long as I'm alive.
Watching the guitar pull was like watching the Mt. Rushmore of Outlaw Music come alive.
Robert N.
Outlaw Country Cruiser
This was the most exciting event I have ever been a part of!
Adeline A.
PARAHOY! Cruiser
#1 vacation ever! Heading into our 5th year!
The venues and artists were awesome. The whole thing was a "pinch me" surreal experience.
How many chances do you get to see your heroes on vacation?!
At the end of each night, we'd say, "It can't get any better." Each night it did.
It was fantastic. I smiled for an entire week.
BEST GROWN UP VACATION EVER!!
I never dreamed I'd be hanging out with people I've admired forever. I felt like a star!
Barry C.
Blues Alive at Sea Cruiser
I'm booked on my fifth "once-in-a-lifetime" vacation with Sixthman. I'm hooked.
Cayamo is pure magic. For my taste in music, this is the Mother Lode.
Lots of fun. Like Spring Break for adults.
Sarah M.
Kid Rock Cruiser
Such unusual pairings of artists… you never know who's going to show up during someone else's show.
It's more than a vacation. It's a family reunion!
PARAHOY is four days of that swell of emotion, exhilaration and collective hugs.
The fact that you can be on a ship with your favorite stars is amazing.
Audra T.
Florida Georgia Line Cruiser
All around great fun. Total package vacation.
Scott K.
Sail Across The Sun Cruiser
This is the one week a year I can let loose and be the real me.
Victoria H.
Kid Rock Cruiser
My one and only dream was to meet KISS in full gear. Bucket list has been checked!
It combines my love of live music with travel AND 24-hr access to ice cream. You can't beat that!
This is the most unique way to see a concert, and the ONLY way to cruise.
What better way to spend time with the actors of your favorite show?
Robin W.
Walker Stalker Cruiser
I've met lifelong friends through these cruises that I would have never met otherwise!
Melody B.
Kid Rock Cruiser
There are no words, pictures, or videos that can truly convey the experience I had.
Lee T.
Mad Decent Boat Partier
It's more about my boat family now. The music is just icing on the cake.
Jason L.
Kid Rock Cruiser
Thanks for giving me an opportunity to go on vacation with my favourite band.
Courtney B.
PARAHOY! Cruiser
It was a unique experience any diehard The Walking Dead fan would enjoy.
Kayleigh
Walker Stalker Cruiser
This party was one of the coolest vacations of my life!
Aaron O.
Mad Decent Boat Partier
The vibe was unlike anything I've ever had the pleasure of experiencing.
Victoria R.
PARAHOY Cruiser
I loved the interaction with artists. Thank you for the great memories!
There is no better value. We saw over 37 acts and over 40 concerts in 7 days. Top That!
The atmosphere of the cruise is so welcoming. It's really like a huge vacation with your extended family.
Druscilla G.
Sail Across The Sun Cruiser
It's the Super Bowl of Vacations - all of my friends and favorite bands in one place. It's amazing.
I can't wait to go on another Sixthman cruise!
Jennifer M.
Sail Across The Sun Cruiser
Nowhere on the planet are there so many music choices! I was introduced to artists I would have never listened to.
I've never had a vacation where I felt so unified with everyone.
Rachel P.
Mad Decent Boat Partier
It's like having a 4-day backstage pass with the coolest people I know!
Dave S.
Outlaw Country Cruiser
Loved the ambiance... everyone there for the same reason. Great vibe!
Cathy B.
Simple Man Cruiser
Everyone who loves going to concerts should experience a Sixthman cruise!
Melanie J.
Florida Georgia Line Cruiser
I can't find the words to justly explain the epicness of this cruise.
Stephanie L.
Florida Georgia Line Cruiser
This was one of the most magical trips I have ever been on!
Thanks for the perfect introduction to the world of cruises and music festivals! Rock on!
We didn't know what to expect and we were blown away! See ya next year.
Debbie G.
Sandy Beaches Cruiser
I will 100% go next year. Count me in. Best time of my life.
I've been to Thailand, Spain, Germany, Italy & Romania, but this took the cake.
What matters on this cruise: Peace, love, unity and respect.
Good vibes and a true escape from reality.
Todd B.
Mad Decent Boat Partier
Loved it! I'll be back next year with more friends!
Lindsey D.
Sail Across The Sun Cruiser
On a ship it's so easy to get to the shows - and no transport needed to get home each night!
Deborah A.
Blues Alive at Sea Cruiser
PARAHOY was literally the best experience of my life.
This is one of the coolest things my wife and I have been able to do together.
Receiving a long hug from Q was the highlight of my life!
Theresa M.
Impractical Jokers Cruiser
I love that KISS enjoys being on the ship with their fans and having fun WITH us.